We were really excited to reach the semi finals of ITV's Britain's Got Talent.
Our adventure started back in November 2007 when we received an email from Britain's Got Talent inviting us to audition. We thought why not?
The judges and audience loved our first audition and we were put through to the next round with Simon suggesting we try performing with a backing track. It was something we had never done before but when someone like Simon Cowell suggests something it's surely worth a try?
After some rehearsals we soon realised that performing to music didn't really work and it wasn't us. We told the producers this but they said they wanted us to keep trying and that performing with a backing track would work better on TV.
We kept rehearsing and tried loads of different backing tracks from Elgar to Drum and Bass but the producers rejected all our suggestions as 'not commercial enough'. We eventually suggested the Madonna track and finally they said yes!
We worked hard from that moment onwards. We later found out that many singers had received vocal coaching and the dancers had worked with choreographers. We were left to our own devices, but I don't suppose there are many junk drumming specialists out there!
When our first audition was shown on TV we were surprised that they showed so little of our performance compared to most of the other acts who were through to the semi-finals, they also didn't show Simon's recommendation that we play with a backing track so in the next round, most of the semi-final audience weren't aware that we don't normally play with one.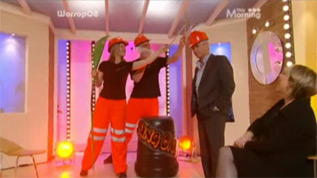 On the Monday after we were shown on BGT we were invited onto This Morning where we were interviewed by Philip Schofield and Fern Britten, both of whom were incredibly friendly and really made us feel relaxed before our first live TV interview. At the end of the interview we did a performance where we got Philip to wear our special hat with a cymbal on the top and we ended the performance by hitting him on the head! As soon as we'd finished at This Morning we were taken to another studio for a photo shoot and interview with the Daily Mirror. This was an amazing day, although nerve wracking!
The night before our semi-final I don't think either of us slept at all as we were so excited and nervous. When it came to the actual performance though we just got on and did it. At the time you don't think about the TV cameras or the judges, you just concentrate on what you're doing.
At the end of our semi-final after getting two buzzers we were bracing ourselves for the judges' comments, surprised that Simon had buzzed as he had loved our previous audition and we had done what he'd asked in performing to music.
Considering that we hadn't wanted to perform with additional music and that the producers had had a huge influence over which piece we used, we felt the judges' negative comments about the backing track were misdirected, but hey, that's TV for you!
It was a shame that we weren't allowed more control over our act on the night as we were looking forward to showing what we could do. I suppose we've learnt that you should always stay true to yourself and always remember there is a lot of editing in TV.
We learnt a lot from the competition and had many experiences we wouldn't have had if we hadn't entered. We would like to say a huge thank you to all of you who were so supportive during and after the show and really helped us to stay positive and forward looking. We are now onto our next challenge, promoting and touring our theatre show 'The Joy of Junk' which was a sell out at Edinburgh Fringe festival in 2007.
Click for more information on 'The Joy of Junk'