Contact & Links
If you would like to book Bang On! please use the relevant contact details below:
For European and UK based Street Theatre events / Festivals please contact:
Fools Paradise

Tel: +44(0)1392 454160
For Evening / Corporate / Schools and other events please contact:
Links to some of our friends...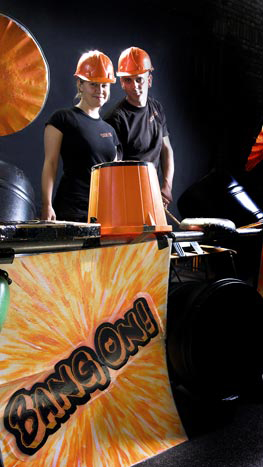 Minus One - Katie's other duo - White Stripes meets the Arctic Monkeys but with a feminine, funky, melodic twist!!!
Anglia Drum Centre, Norwich - Katie's favourite drum shop!
The Pish Dolls - The smallest and liveliest band you will ever see!
The Dresden Dolls - Brechtian Punk Cabaret, another great boy/girl duo!
Smallbrown - The Original and best photographic busker (See photos page)
Devotchka - Haunting melodies and an amazing array of instruments!
Espacion - Fantastic digital photography (See photo on the left and on the 'about' page)
Matt Joyce - More fantastic digital photography (See front page)
Planet Angel - Our favourite club